Welcome to Rotary District 5160
Our Rotary and Rotaract members are proud to welcome you to our global community of more than 1.4 million people dedicated to building a better world. We are a community of leaders from all continents, cultures and occupations. Through the Rotary community, you can exchange ideas, take action and build lifelong friendships with people who share your passion for service. Together, we can eradicate polio, train more skilled peacemakers, protect the environment and provide lasting solutions for communities fighting disease, hunger, illiteracy, and poverty.
Rotary can be as big or small as you want it to be. Whether you are looking to volunteer in your local community or explore the opportunities to engage Rotary outside your club and community, the possibilities are endless. Take advantage of the resources and activities available through your club, district, and Rotary International to make your experience with Rotary both rewarding and fun.
Whatever your reason for joining Rotary, we are glad you did and we look forward to meeting you along the way. If you are looking for support or have questions, please feel free to connect with us.
Claire Roberts
District Governor's Message
Greetings 5160!
Fall is the air, and Clubs around the District are sponsoring Haunted House experiences, Spooktaculars, pumpkin patches, Trick or Trunking events and other Fall themed events. And I learned about the art of Pumpkin Chucking … who knew that was a great way to raise money and promote family friendly events at the same time.
In November, we recognize The Rotary Foundation (TRF). While Rotarians and Rotaractors provide the energy, ideas, people power and excitement for our numerous local and international service projects, TRF provides the fuel to fund our projects. Thank you for your generosity and support of our Foundation!
I have had the opportunity to visit with 40 clubs so far this Rotary year. Meeting with you and hearing about the amazing work that you are doing in your communities and beyond is by far the best part of being District Governor! If I haven't visited your Club yet, I look forward to visiting with you in the coming weeks and months.
Please let me know if you have any questions or if there is anything that the District Leadership team can do to support you!
GO TEAM 5160!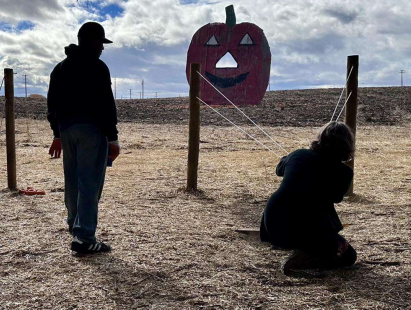 2023-24 RI President Gordon McInally asks us to come together to reduce the stigma of mental health issues and access to care. If I sprained my ankle, I wouldn't think twice about asking you to take me to the emergency room but many who experience mental health challenges suffer in silence for fear of being judged or rejected.Our clubs have created a safe space that allows us to be our authentic selves while together we celebrate our successes and support one another in tough times. We need to be comfortable asking each other the question "How are you?" followed by "How are you REALLY?".  And, even more importantly, we need to create a space so all are comfortable sharing a truthful answer.
Thank you for your commitment, your energy, and your service. I am incredibly lucky to have the privilege of serving with an amazing team of leaders, Rotarians and Rotaractors this year.
GO TEAM 5160!!
Claire
Claire Sammon Roberts
District Governor 2023-2024



Together, we see a world where people unite
and take action to create lasting change –
across the globe, in our communities and in ourselves.
The Volunteer Fire Support Branch in Woodland California was looking for a new home...
read more
Rotary Club of Paradise launches ParadiseStrong.org to collect contributions from...
read more